Here in the UK the phrase PMA was highly used back in the 90s by the UKs most successful sprinter, Linford Christie (of course the term was fashioned by Napoleon Hill back in 1937 in his book 'Think and Grow Rich' – little bit of education for us all J ). And as an Athlete you certainly do need to have PMA as at some points there will be some really hard times, such as when injured!
As I am now! As I write this I am 13 days away from travelling to the World Masters Indoor Champs to compete in the 400m. My last race and only 400 so far this year was at the regional champs here in the UK (ran 2-200m day before 23.18 / 23.03), I ran 50.53 in the heat and decided not to run the final as I thought that was a good opener to the season and didn't want to risk injury! Well…. That was the plan.
I took a few days off and returned to a tempo session, so nothing to exhausting, second rep and pop goes the hamstring. That was 4 weeks ago, I returned to training last week again nothing to strenuous but unfortunately I got a little too excited and strained it again. Leaving me now unable to compete at the British Nationals this weekend and in very much a state of emergency for Daegu.
So here I am re-injured with time running out, I could of course simply cancel the trip, lose some money but take the time to recover. But, I am stubborn, very stubborn and it is that tenacity that makes me want to race and not just race but compete! No matter what I always believe I have a chance. So I have to think positive that I can recover in time and also do enough to keep my conditioning and speed in relative place.
I have set up my rehab and training plan to include more circuit type training sessions, as you can see in my downloads section HERE based around the George Gandy conditioning circuit. And also I am doing loads and loads of Ultrasound treatment. I have my own unity and using this to facilitate the recovery through the inflammation and proliferation phases.
Below is a link the Peak performance article on PMA and I have also pasted a nice section that I have found beneficial.
Can PMA aid my recovery and performance in less than 3 weeks! Watch this space I guess!
Manage your mind habits
Emotional conditioning or reprogramming your mind habits involves challenging the habits associated with negative thinking. The performance sapping effects of unpleasant emotions are often built on a habit negative thinking. People have conditioned themselves to be susceptible to experiencing such emotions through negative thinking habits, and as such, these habits need breaking. The key is to reprogram your mind to replace these negative habits with positive thoughts and images. Eventually these new positive thoughts will become habitual and performance will become more consistent.
'If-then' plans have been found to be an effective method of changing thought processes (see tale). If-then plans work by putting the barrier to poor performance alongside the solution. By putting barriers and solutions side by side, the process of implementing the solution can become automated. During the learning stages, people repeat the if-then plan daily until it becomes ingrained. If-then plans can re-structure negative thoughts and turn them into positive thoughts by having pre-prepared structured statements.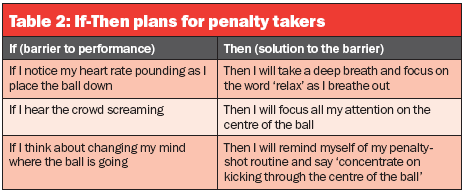 With practice, you can become more aware of your emotions and able to use psychological strategies to manage performance. You also need to know what each emotion means and the appropriate response to deal with it. Practicing sport skills using competition imagery and if-then strategies combined with PETTLEP can help you deal with these emotions. With practice, you can learn to manage your negative emotions until it becomes a habit!